Apeejay Education hosts social awareness initiative C-20 Samajshala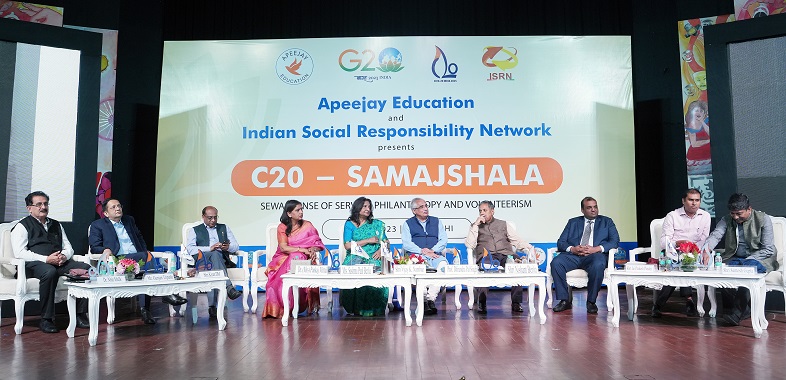 Apeejay Education & Indian Social Responsibility Network (ISRN) recently came together to present C-20 Samajshala, a mega awareness endeavour, under the umbrella of G20 – the inter-governmental forum comprising 19 countries & the European Union that works to address major issues related to global economy. The event took place at the auditorium of Apeejay School, Panchsheel Park, New Delhi.
Graced by a galaxy of dignitaries, the programme was also attended by eminent academicians, government functionaries, civil society members, teachers and students. The Chief Guest for this occasion was Shri Vijay K. Nambiar, C20 – Sherpa (Principal Co-ordinator), Retired Ambassador of India and Under-Secretary General of the United Nations.
On this occasion, Shri Vijay K.Nambiar felicitated Mrs Sushma Paul Berlia, Chairperson, Apeejay Education, Co-Founder & Chancellor, Apeejay Stya University, Chairperson & President, Apeejay Stya and Svran Group. Mrs Berlia was the Guest of Honour in the event. She was felicitated for her outstanding contribution in ushering in the much required synergy between Education, and industry towards the cause of Nation Building. The event was also graced by Shri Nishant Berlia, Co-Promoter, Apeejay Stya & Svran Group.
Speaking on the occasion, Mrs Sushma Paul Berlia said, "Right from the beginning it was imbibed within us, in our DNA, that whatever you do whatever you earn, at least spend some on philanthropy. Social responsibility is the soul of our organisation." Dwelling on the importance of social outreach, Mrs Berlia said, "Helping someone is something that each one has the ability and the power to do, no matter what our resources."

She further said, "We have been trying to do sewa through our institutions and organisation as well and be involved even while working. We have framed a curriculum where we talk about yoga, meditation, exposure to comparative philosophy, finding uniqueness in different religions and the similarities and being able to think critically and in that process learn to introspect."

Mrs Berlia also said, "My father, Late Dr Stya Paul, who is the Inspiration behind all Apeejay Education Institutions, always taught us that we are only stewards of the wealth we create and that there is a big difference between the concept of wealth and money." She explained how creation of wealth has a social significance as it is created not only for the self but also for the people of an organisation and for the prosperity of society at large.

Chief Guest, Shri Vijay K. Nambiar said, "The sewa bhav must emanate spontaneously from within each individual and be reflected in a practical commitment in each toward fellow citizens. I have always been impressed by the significant thrust of community services in our various communities." He also said, "If there is any embodiment of 'sewa' it has to be Dr Stya Paul. Also, Mrs Sushma Paul Berlia has done so much in the field of education."

Shri Santosh Gupta, India Coordinator-C20 Sewa Working Group & CEO, ISRN, said, "The objective of Civil20 is to facilitate how different civil societies can put forth their viewpoints. After discussion, these are then converted into policies to be presented at an event in July 2023. These will then be presented at G20 in September."
C20 India 2023 is one of the official Engagement Groups of the G20 that provides a platform for Civil Society Organizations (CSO) around the world to voice people's aspirations to the world leaders of G20.
Special Guest for the event was Prof Dhirendra Pal Singh – Education Advisor to Hon'ble Chief Minister of Uttar Pradesh, and Former Chairman, UGC. Also, present were Dr (Mrs) Pankaj Mittal, Secretary General, Association of Indian Universities, Dr Nitin Malik, Registrar, Ambedkar University, Delhi, Shri Jai Prakash Pandey, Director, Department of School Education and Literacy, Ministry of HRD, Shri Gunjan Tripathi, Director, Medhaj Techno Concept Private Limited, and Shri Kiran DM, Sous-Sherpa, Civil 20 India. Brand ambassadors of C20 were also felicitated at the event by Mrs Sushma Paul Berlia and Shri Nishant Berlia.