Bonjour India's lineup of events in May covering photography, dance, cinema, wall art, literature, and more set to thrill audiences in Delhi NCR
Bonjour India, an artistic, cultural, educational, and literary festival, celebrates the partnership between India and France. An initiative by the Embassy of France and its cultural department Institut Français en Inde, along with the network of Alliances Françaises and the Consulates General of France, the festival is all set to delight the people of India with 120 curated and collaborative events across 19 cities this summer.
Bonjour India Events in New Delhi
Convergence:
Convergence will show how French, as well as Indian photographers, perceived India from the birth of photography until the 1970s. In this exhibition, different visions of French as well as Indian artists who travelled or lived in India from the mid-19th century to the 1970s will be showcased through the medium of photography.
Venue: Kiran Nadar Museum of Art, New Delhi
Date: April 28th– June 30th
Time: 11 am – 6:30 pm (All three days)
Link: https://www.ifindia.in/event/convergence-photography-exhibition/ 
Café-Cinema:
Cafe-Cinema is meant for lovers of cinema and food. At Café-Cinema, visitors will enjoy French cuisine while watching the movie Aline– a fiction freely inspired by the life of Celine Dion – on May 5th and Antoinette in the Cevennes – a film by Caroline Vignal – on May 6th. The event is conceived as the perfect place to meet, treat, chat, regain, reclaim, and rejuvenate after a two-year-long pandemic. Visitors are encouraged to attend with their dates, friends, or families.
Venue: Lawns of Institut Français in India
Date: May 5th and 6th
Time: 7 pm (both days)
For more information visit: https://www.ifindia.in/event/cafe-cinema-ifi/ 
French Literary Fest:
Eminent French authors, graphic novelists, and children's writers will bring forth a French literary weekend filled with round tables and debates on contemporary French literature and poetry at the prestigious Bikaner House, followed by interactions with children and book signings at some of Delhi's most popular bookstores. A real treat for book enthusiasts! Visitors will also witness a literary award ceremony with the announcement of the Romain Rolland Book Prize to award the best translation in 2021 of a French title into an Indian language, including English.
The French literary Festival will take place at Bikaner House from 4 pm to 6 pm. The Chief Guest will be Mugdha Sinha, a career civil servant with twenty years of wide-ranging experience in governance, policymaking, and international trade negotiations, while the MC will be Christine Cornet.
Venue: Bikaner House, New Delhi
Date: May 7th
Time: 4 pm to 6 pm
For more information visit: https://www.ifindia.in/event/french-literary-fest/
City for All?:
The City for All? exhibitions endeavor to make public spaces in Indian cities more accessible to women and transgender people by engaging the masses in public art projects. Visitors will engage with the exhibition through an interactive public wall resulting in discussions around inclusive public spaces. Visitors may also click lifelike selfies in a photo booth with popular local and French landmarks in the background.
Venue: Bikaner House, Pandara Road, India Gate
Date: May 7th to May 8th
Time: 11 am to 7 pm (both days)
For more information visit: https://www.ifindia.in/event/city-for-all/
Bonjour India Event in Gurgaon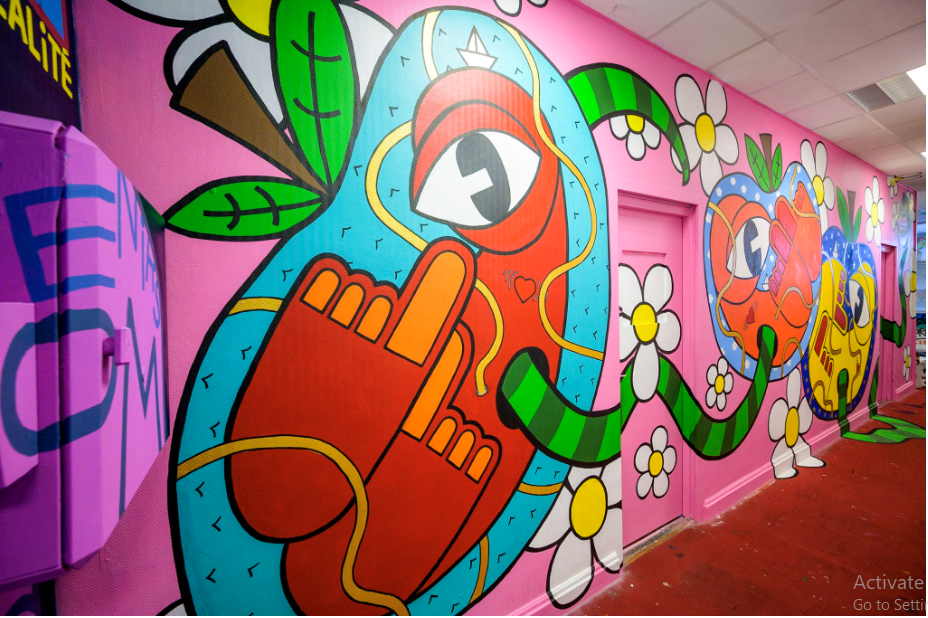 Wall Art Festival – Lili Totas:
The artist Lili Totas was born in Brazil and raised in Honduras. She has been living in Lyon since 2003. Uprooting is the source of her creativity. She has chosen to express through street art techniques using bright colours and round and soft shapes: many nostalgic representations for a political and social claim. It is also the femininity of a committed citizen that she evokes. She will paint a mural at Jharsa Chowk, Sector 32, Gurugram from May 2nd to May 4th. Visitors can enjoy watching as she transforms the façade of a building with her signature style of wall art.
Venue:  Jharsa Chowk, Sector 32, Gurugram
Date: May 2nd to May 4th
For more information visit: https://www.ifindia.in/event/wall-art-festival/
Bonjour India Event in Noida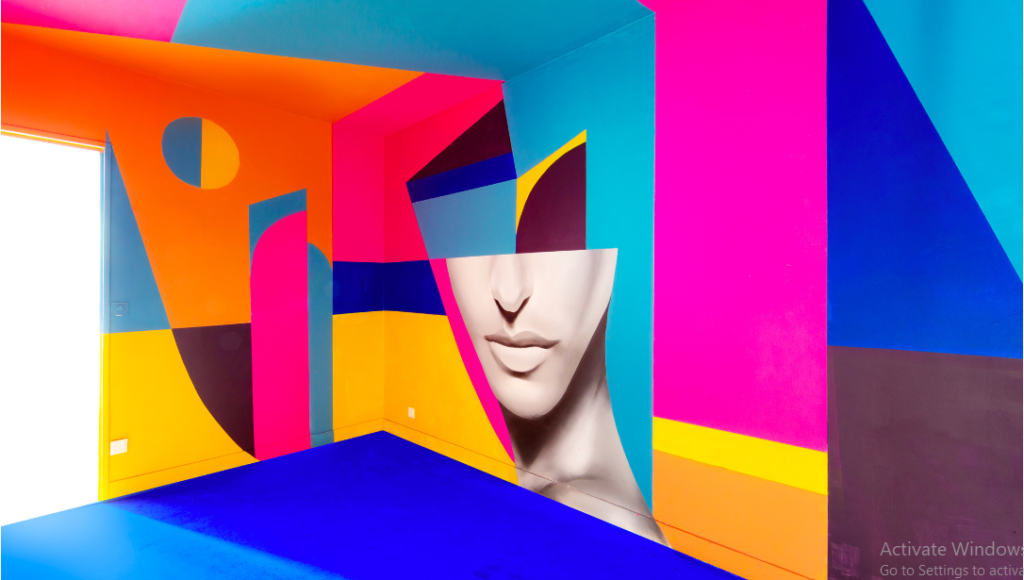 Wall Art Festival – SKIO:
The artist SKIO's work mixes geometric shapes and realistic portraits with obfuscated eyes. SKIO's first murals appeared in 1993 in the Nice region, starting with mural letterings before moving on to figurative romantic topics fed by his pop and TV culture. Today the works of artist ​SKIO​ (who studied to be a designer), question our presence in the urban landscape by creating new modern and harmonious esthetics. At the Wall Art Festival, visitors can watch as SKIO transforms a building's exterior with his unique style of painting.
Venue: Sector 51 Metro station, Noida
Dates: May 4th to May 6th
Time: 9 am to 6 pm (both days)
For more information visit: https://www.ifindia.in/event/wall-art-festival/ 
Battle BD – Comics Wars:
The show promotes Comics through live drawing, combining music, humour and public participation. In Battle BD, the authors are confronted with live drawing, freehand with no time to think.
Much like an improvisation match, the writers compete on stage via drawing. The host, Tony Curien, guided by the audience's suggestions, imposes a theme on them. In three minutes, they produce a poetic, funny, offbeat, or even committed work, to the rhythm of the DJ's playlist.
To win the competition, the artist's work must tell a story and convince the audience.
Venue: DLF Mall of India, Noida
Dates: 7 and 8 May 2022
Time: 4 pm to 5 pm
For more information visit: https://www.ifindia.in/event/battle-bd-comics-wars/