Innovations in Marketing – Past, Present and Future
Mumbai, India – Upstream Business Solutions, is proud to announce the India International Elevate Marketing Summit: iiEMS 2023, a one-day conference scheduled for Friday, 19th May 2023, at the Four Seasons Hotel, Worli, Mumbai.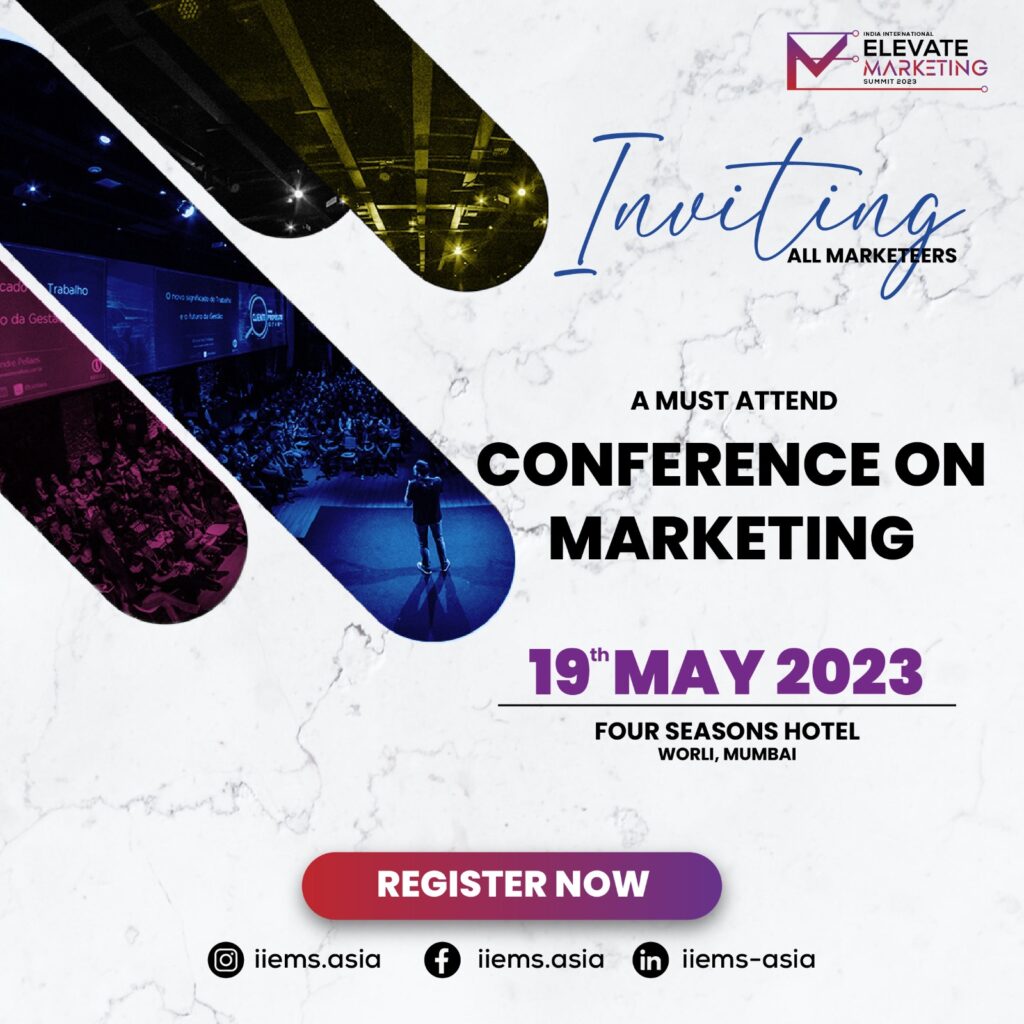 The iiEMS conference is a unique platform designed to foster new connections and showcase the latest innovations in marketing. With over 40 speakers, 100+ delegates, exclusive knowledge sessions, and unmatched networking opportunities, this conference is a must-attend for all marketers looking to stay on top of emerging trends and get a sneak peek into the future of marketing.
With ever-evolving trends and new technologies, the marketing industry is undergoing a massive shift. The marketing concepts of the past are different from those of the present. The future of marketing will be more diverse and distinctive. From driving a company's strategy to focusing on relationship building, the yesteryears of marketing are now being accompanied by data analysis & digital marketing. Today, the exquisite pairing of concept, creativity, technology, and data-driven ideation is elevating brands to success.
Focusing on the growing need of the marketing industry, the theme of the conference is "Innovations in Marketing – Past, Present and Future", and it will feature CXO-level speakers from various companies, including Landor & Fitch, Starbucks, upGrad, Lubrizol, Swiggy, Alexa, Uppercase, Giva, Group M, Policybazar, Schneider, Syska, Clovia, VI, and Hero Electric, among others.
The conference will offer immersive presentations, engaging panel discussions, and exclusive knowledge sessions such as brand gupshup, ask me anything, keynote sessions and fireside chats. The networking lunch will provide an opportunity for delegates to connect with peers, exchange ideas, and explore new opportunities.
Mr. Mohit Mewani, Partner and CEO at Upstream Business Solitons mentioned "We are excited to bring together the best minds in the marketing industry to discuss the latest innovations, trends, and strategies. The iiEMS conference is a unique opportunity for marketers to transform their approach towards marketing innovation, culture, & strategy."
To learn more about the India International Elevate Marketing Summit 2023, visit the official website at https://www.iiems.asia