Khadim India presents a Flagship product of British Walkers in new avatar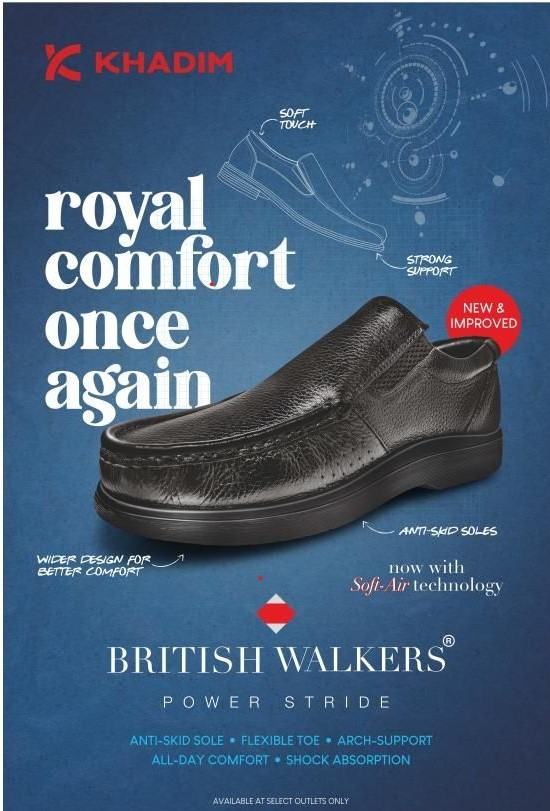 Kolkata May 2023: Khadim India, the homegrown second largest retail footwear brand reintroduces the much sought-after and high-performing 'flagship product' from the stable of its sub-brand British Walkers, in a new avatar with more improved features. The premium formal shoe line has been a best seller in the British Walker portfolio since its launch.
The legacy product is been recrafted from genuine leather with advanced features. The new improved product is a combination of craftsmanship with the latest technology. The functionally designed pairs include Soft Air Technology, Anti-Skid Soles aided by Wider Design with Toe Flexibility and Arch-Support for Better Comfort and Strong Support. The all-encompassing range is carefully developed to fit the unique needs of the shoe aficionados which ensures style and comfort along with a royal feeling in every step.
Commenting on this, Mr.Indrajit Chaudhuri, CFO, of Khadim India Ltd. said, "British Walkers caters to the customers eyeing premium leather footwear in affordable pricing. This particular product has been a hero in our British Walkers portfolio for about two decades. After witnessing huge demand from our patrons we decided to relaunch the product with new features and added comfort. With this new improved product range, we are confident that our value-conscious consumers would be glad to make it part of their daily ensemble once again."