M3M Foundation Officially Launches the "Sarvoday" program in Tauru block of Nuh District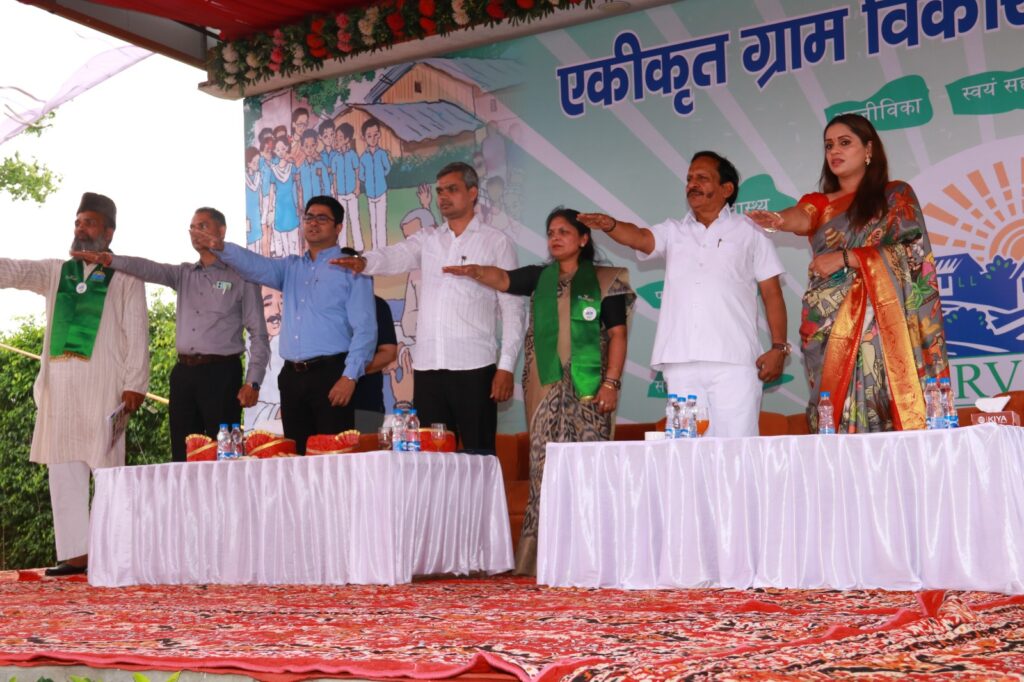 7th May, Tauru, Haryana: We Indian lives in our villages, it is as true as the rising of the sun every day. M3M Foundation is determined to make this a reality without any doubt. That's why every day we are bringing new projects in the direction of realizing this "Village is to be empowered" and are working wholeheartedly to implement them. In this series, M3M Foundation formally launched its program "Sarvodaya" today in the form of a public campaign Sarvodaya, as the name suggests, talks about the upliftment of all, the rise of all. With over more than 1500 people came in which women participated the most at the venue along with Mrs Manita Garg, Chairperson of MC Tauru, MLA Kunwar Sanjay Singh, and Nagapalika Chariman and others.
M3M Foundation's Sarvodaya program has taken up the upliftment of not only Tauru block but also 81 villages under it. For the last several months, the Foundation's team has been working with 54 panchayats under the Integrated Village Development Program.
In this direction, so far Village Management and Development Committees (VMDCs) have been formed in 30 panchayats. These VMDCs will have about 9-12 members, these members will identify the problems of village development and solve them as well as make plans for development works in the villages and which will be known as Village Management and Development Plans (VMDP). Villagers who are experts in the field of education, health, skill development and environment, along with the Panch and Sarpanch of the village will also be included in VMDC. M3M Foundation has so far constructed VMDCs in 30 villages under the Sarvodaya programme, work is in progress in 20 villages.
M3M Foundation also made an announcement of Tauru Pond, full renovation with infrastructure and school supplies for the government girls school, and installation of 14 water coolers and purifiers. On the other hand, for the sake of the environment, the Foundation has taken an oath to plant about one lakh, 50 thousand trees in all the villages and towns of Tauru block in the year 2023-24 and it will be the responsibility of all the gram panchayats, councillors and all the villagers to convert these plants into trees.
M3M Foundation has been working at the grass root level in the field of education, environment, health and employment. For education, we are giving scholarships to the children here through the SAAKSHAR program. At the same time, to make them employable and entrepreneurs after education, they are also being provided training in our impower training centre. In order to provide health services to the people of Tauru, the medical centre here is also providing modern machines as well as other facilities in the health centre. We are conscious about the environment, the proof of which is in front of all of you.
Shri. Rao Inderjit Singh, Minister of Statistics and Programme Implementation of India shared his message, he said; "I am extremely happy to know that M3M Foundation has planned to get development work done in the villages of Tauru block of Nuh district, an aspirational district declared by the Government of India. The resolve taken by M3M Foundation to make arrangements related to solar lights, renovation of Jhamuvas, drinking water and health in the village of Tauru block is commendable. Wishing the bright future of the organization, I congratulate the office bearers of the organization and hope that they will come true in this work."
On this occasion, Dr. Payal Kanodia, Chairperson and Trustee of the M3M Foundation, said, "It gives us immense pleasure to announce that we are officially launching our Sarvoday program. We have been working on this for a long behind the curtain. M3M Foundation has always come in front to help society in as many possible ways. Bless us that we can do our best towards society. We have pledged to fully reconstruct the Government Girls School; I believe every girl child should get a proper education. We have today also handed over a new ambulance at our common Health Centre so that everyone gets proper treatment on time. With all your blessings I see a very bright future."