North East Healthcare Summit 2023: News18 Assam-North East and Rotary Club of Guwahati Icon shed light on the inspiring stories of medical professionals
05th May 2023: The medical associations in the North Eastern states work relentlessly to provide exceptional healthcare services to society, often accomplishing miracles that go unnoticed. News18 Assam recognizes these inspiring stories and the excellence of the medical professionals who are working to grow the healthcare sector. To celebrate and highlight the tireless efforts of these talented professionals, News18 Assam-North East has collaborated with the Rotary Club of Guwahati Icons and organized the 'North East Healthcare Summit 2023' in Guwahati on April 28th, 2023, at Radisson Blu Hotel Guwahati. The event became the centre stage to showcase the remarkable achievements of these medical professionals and provide them with the due appreciation they truly deserve.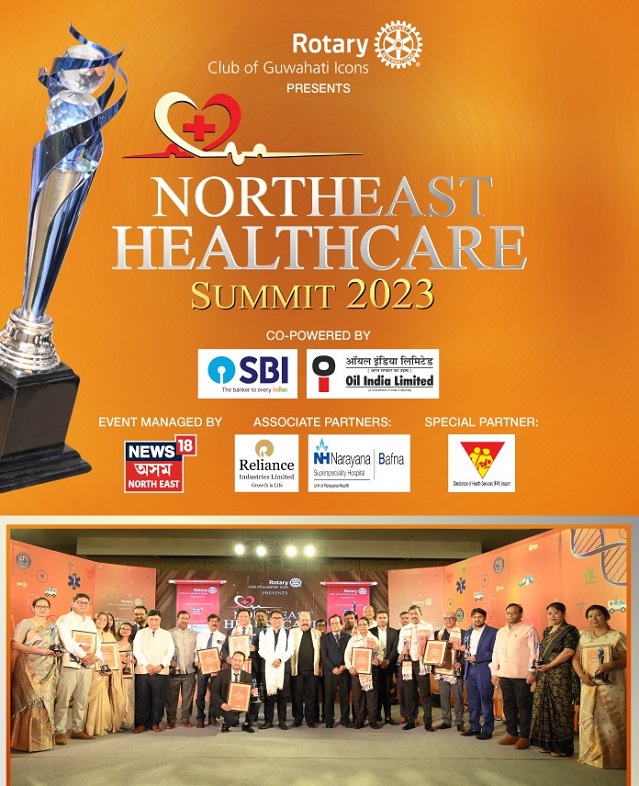 The colossal event was graced by renowned personalities of the medical fraternity, such as Dr Sapam Ranjan Singh, Health & Family Welfare Minister of Manipur, as the chief guest, and Dr Mohan Shyam Konwar and Dr Kameswar Singh Elangbam as guests of honour. The North East Healthcare Summit 2023 also featured an insightful discussion on the topic "The Changing Medico Scenario of Northeast: A New Hope," in which Mr Ashok Kr Puranik, Executive Director of AIIMS, and Dr Sapam Ranjan Singh shared their expertise and insights into the current state of the healthcare industry and offered a promising glimpse of the future.
The summit was co-powered by State Bank of India & Oil India Limited; the Directorate of Health Service (FW) Assam was the special partner; and Reliance Industries Limited & NH Narayana Super Specialty Hospital were the associate partners of this noble event.
Tune in for the grand celebration of the North East Healthcare Summit on News18 Assam on May 7th, starting from 10.30 PM