SAKRA World Hospital launches the SAKRA Information Centre in Bardhaman, West Bengal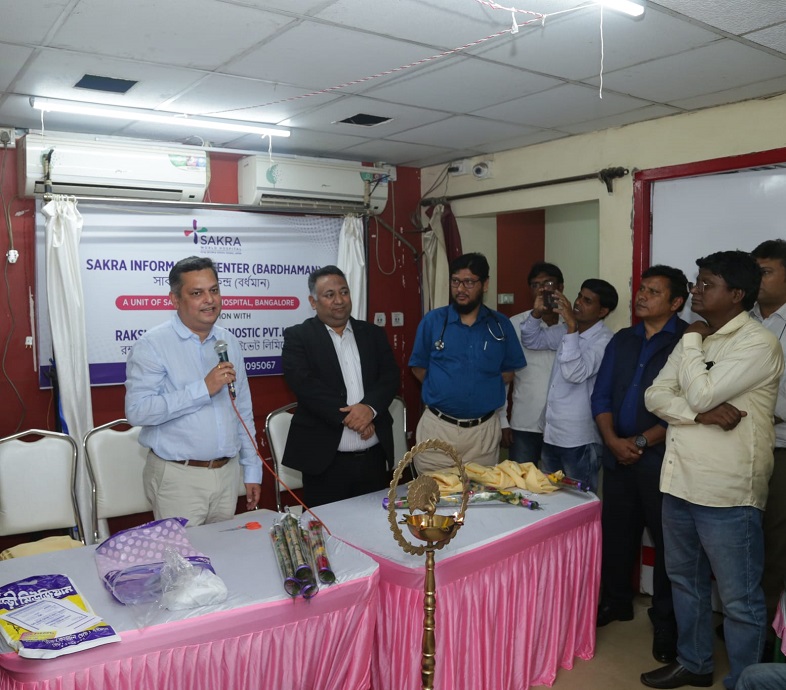 Kolkata, May 5th 2023: The SAKRA World Hospital in Bangalore is a premier healthcare organization, with Japanese processes and know how, providing novel healthcare series in India. By combining the qualities of Indian clinical talent and Japanese technology, the SAKRA offers world class medical care to the people of Bangalore and Karnataka. SAKRA Hospital has announced the launch of SAKRA Information Centre in collaboration with Raksha Kavach Diagnostic Private Limited at Bardhaman in West Bengal.
In the presence of the organization's Mr. Lovekesh Phasu, COO, Sakra World Hospital, the centre was formally inaugurated by Mr. Kamanasish Sen, Superintendent of Police of Purba Bardhaman district and Mr. Sukanta Ghosh, Director, Raksha Kavach Diagnostic. This information centre will serve to provide monthly OPDs by Sakra World Hospital doctors from the fields of Neurosurgery, Cardiac Surgery, Gastroenterology and Urology. This World class facility in Bardhaman will also be used as an information hub where people will have access to a variety of information about the facility, doctors, surgical costs, admission processes, insurance claims, payment methods, and billing. With this initiative, the aim is to provide the residents of Bardhaman an access to top-notch medical professionals.
Mr. Lovekesh Phasu, COO, Sakra World Hospital, said, "The SAKRA Information Centre is a more efficient way to supply relevant knowledge and the best specialists. Launch of this initiative is a testament to our belief and our commitment to providing this region specialized, intense, and customized medical attention."
Mr. Sukanta Ghosh, Director, Raksha Kavach Diagnostic quoted, "Without a doubt, this centre is one of the most cutting-edge institutions with the most high-tech services in Bardhaman. We will provide our best support to ensure that SAKRA Information Centre is recognised as being synonymous with the finest institution providing best medical care for the people of Bardhaman."
Mr. Gurupradha Poonja, General Manager, Marketing at Sakra World Hospital said, "Through this initiative, we will ensure people in Bardhaman have excellent medical care within their reach. We are dedicated to taking care of the patients' needs and giving them the best care possible from experienced, caring medical professionals who are industry experts in their specialties."
Mr. Kamanasish Sen, Superintendent of Police of Purba Bardhaman district, said, "I congratulate Sakra Hospital and Raksha Kavach for partnering in this initiative for delivering better health and well being of the Bardhaman residents."