Shattering Gender Stereotypes, Samantha Ruth Prabhu Says, 'Rise Up, Baby!' With Pepsi®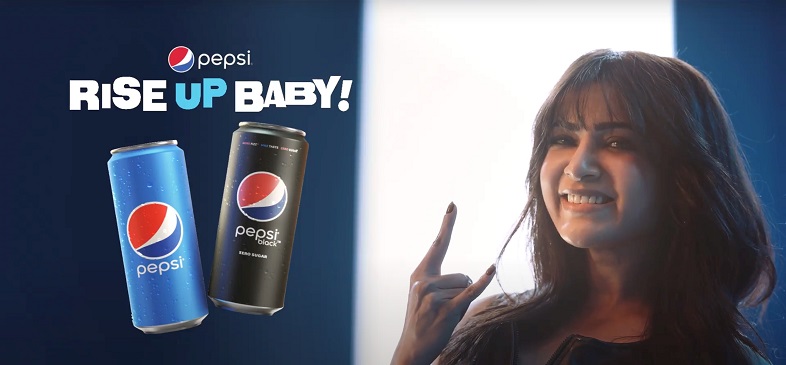 Bangalore, 27 April 2023: Personifying the youth's unwavering passion and unshakable spirit through its disruptive narratives, Pepsi® unveiled yet another rendition of its empowering new brand positioning 'Rise Up, Baby!'. The campaign features actress, youth icon, and an inspiration for women across the country, Samantha Ruth Prabhu. With this campaign, Samantha joins Pepsi®'s star-verse as one of its newest brand ambassadors.
All set to redefine the clichés around gender roles in society, the stirring and inspiring campaign aims to encourage women to follow their passions and irrepressible beliefs to break the societal norms that the world has created for them. Portraying the archetypal situations an Indian woman faces daily, from being questioned for not being married by a certain age, shamed for staying out late for work or taking up a lead action-oriented role, the campaign is a commentary on the millions of passive comments and pressures that women go through in life.
The gripping campaign through its powerful three words, 'Rise Up Baby', pays homage to the free-spirited women who do not let others define their worth, and march to their own rhythm. Samantha Ruth Prabu is an embodiment of a non-conformist woman who is confident with her personality and lives her life the way she wants to. She is looked up to by millions of women across the country as an inspiration for standing up for herself through every challenging situation. Pepsi®'s new campaign, featuring her lively and resilient persona, aims to inspire every woman out there to own their life with unwavering self-confidence, authenticity, and mettle. The campaign reverberates the irrefutable truth that the modern woman is truly indefatigable and nonchalant in the pursuit of her dreams and callings.
Speaking on the campaign, Saumya Rathor, Category Lead, Pepsi Cola, PepsiCo India, said, "Pepsi has always strived to reflect the synergy of the younger generation. Through our last two campaigns, we aimed to portray the irrepressible spirit of the youth as they rise above societal norms. For this campaign, our focus was to offer an empowering campaign for the woman of India and pay tribute to their unwavering self-belief and self-confidence. Samantha Ruth Prabhu is the epitome of the independent, bold, and free-spirited modern Indian woman, and therefore resonates perfectly with our positioning of 'Rise UP, Baby!'. We welcome Samantha to the Pepsi family and are extremely thrilled to work with her for many more disruptive campaigns going forward."

Commenting on the campaign, actress Samantha Ruth Prabhu, said, "I strongly believe that women should always follow their hearts, shattering the stereotypes that society has set for us. The campaign, was, therefore, even more special for me as it exemplifies the unshakable and persistent spirit of the women of this generation while inspiring them to wear their quirks on their sleeves. I am truly excited to be associated with Pepsi and cannot wait for fans to get inspired by the campaign and 'Rise Up, Baby!"
The new campaign will be amplified with a 360-degree surround across television, digital, outdoor, and social media. Pepsi® is available in single/multi-serve packs across modern and traditional retail outlets as well as on leading e-commerce platforms with its sparkling lemon and lime flavor.