Usha Silai School women showcase their designs on the ramp at the 5th edition of East India Fashion Week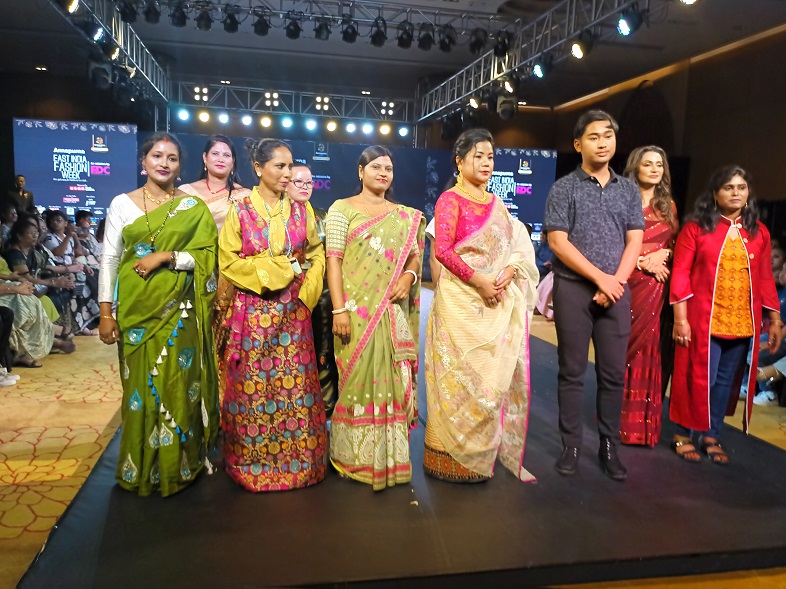 Guwahati,  2023 – Women from the Usha Silai Schools had the audiences enthralled as top models from across the country walked the ramp wearing ensembles they made at the East India Fashion Week (EIFW) in Guwahati. Under the mentorship of designers Nandini Baruah and Meghna Rai Medhi from Assam, Tsering Dolma from Sikkim, ArbinTonjam from Manipur, and Escape Engmoia from Mizoram, select women from Usha Silai School put their skills to use and designed and tailored 27 pieces of clothing for the show.
These specially curated ensembles retained the local ethos of the Northeast with a unique take on the traditional art and craft of the region – Baku, the traditional Bhutia dress of Sikkim, traditional cuts and weaves for blazers, blouses, kurtas for, and straight pants from Manipur, dresses using local weaves, but with a modern take from Assam, and designer wear created from upcycled materials were among the show-stealers of the fashion week.
Hailing from rural areas, the 10 Usha Silai School women selected for this initiative included Durga Rani (Pakyong, Sikkim), Lalita Rai (Agrigoan Village), DharitriKalita (Bankakata, Assam), Rinki Das (Silchar, Assam), Salam Thoibi Devi (Moirang Village, Manipur), ElangbamSurbala (Manipur), Pinkumoni Devi (Assam), Pallabi Bora (Assam), Ramngaihpuii(Mizoram) and Lalthianghlimi (Mizoram).
Mary Rupa Tete, Vice President – Usha Silai Schools, Usha International, said, "It is truly humbling and overwhelming to see how far these women have come – hailing from remote villages of North East India, to walking the ramp with designers whom they worked with to create the collections for the East India Fashion Week. It's events like these that provide a stage for the work we are doing, inspiring us to do even more. This event provided real-life professional exposure to these women under the mentorship of designers who are as passionate about designing as they are about preserving the cultural ethos of this region. To witness the energy, excitement, and hard work of these women earn the resounding applause from the crowds declaring it a great success, is a feeling that I will cherish for life. It is through platforms like the East India Fashion Week, that we aim to promote the exceptional work done by our women and create long-term opportunities for them."

MedhaSaikia, Founder &spokesperson for the East India Fashion Week, said, "Having Usha Silai School as partners worked beautifully for us, and to see the absolutely gorgeous work these women showcased just confirms that they were the right partners for us. Usha has created a platform that is bringing about transformational change to the lives of rural women by providing them with opportunities to earn sustainable livelihoods and become entrepreneurs in their own right. We congratulate Usha International for creating such a powerful narrative of women empowerment through this initiative."
The two-day fashion extravaganza saw top models from across the country walk the ramp in an array of stunning designs, created by 25 of Northeast's most renowned fashion designers,each of whom promoted local weaves and weavers in their own unique way.