Yuma Energy Strengthens Its Leadership Team, Appoints Deepak Nanwani As The Head Of Revenue & Operations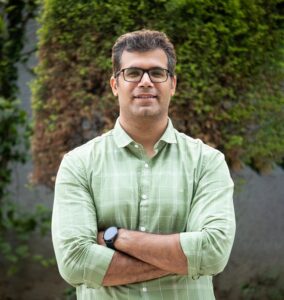 BENGALURU, India, May  2023 – Yuma Energy (Yuma), a joint venture between Magna, one of the world's largest automotive suppliers and Yulu, India's largest shared electric micro-mobility player, announced the appointment of Deepak Nanwani as the Head of Revenue and Operations. Deepak has decades of experience across consumer technology companies in the mobility and logistics industries and comes with proven expertise in scaling businesses, driving growth, and leading large teams.
In this role, Deepak will focus on building a strong Yuma network to enable anxiety-free e-mobility for the masses, building business partnerships with OEMs to bring them onto Yuma's network, and implementing processes to create ongoing positive customer experiences. Deepak will also drive partnerships with communities, OEMs, and stakeholders for stronger integration of e-mobility into the fabric of cities.
Commenting on Deepak's appointment, Matteo Del Sorbo, Magna Executive Vice President, and Global Lead for New Mobilitysaid, "Yuma is at the forefront of building the energy network for the future of mobility. As the largest Battery-as-a-Service player in the country, Yuma is committed to bringing innovation, and the latest technology, and creating affordable access for all. Deepak joins us at a critical inflection point in Yuma's story. His experience in bringing partnerships, processes, and people together to create profitable businesses at scale is just the kind of firepower Yuma needs. We are very excited to have him onboard."
On his appointment, Deepak Nanwani said, "I'm delighted to be joining Yuma. This opportunity is especially exciting because while we grow Yuma, we are also going to supercharge innovation in the Indian e-mobility space over the next decade. Building on my experience of working at the confluence of technology, product, and operations, and scaling up the business while ensuring a strong financial orientation is exciting. Solving with first principles thinking, creating long-term customer value, building win-win partnerships, and putting together a passionate team will be my top priorities."
Deepak, an IIT-IIM alumnus, started his professional journey as a consultant at PricewaterhouseCoopers. Later, he joined Uber where he set up processes to help the business scale leveraging tech and automation, and also invested in developing strong relationships with all external stakeholders. He built the highly profitable Premium Rides business for Uber India, led the global expansion roadmap for this business line, and was elevated to the Head of the Premium Products division – India & South Asia at Uber. Prior to Yulu, Deepak headed the marketplace function for Meesho Superstore. He has also worked with Amazon (London), building an operational excellence team for Amazon Flex Europe, one of Amazon's fastest-growing last-mile channels.
TAGS
micromobility, Electric Scooters, Electric Mobility, Yuma Energy, Urban Mobility, Batter-as-a-Service, Energy-as-a-Service, Yulu, Magna