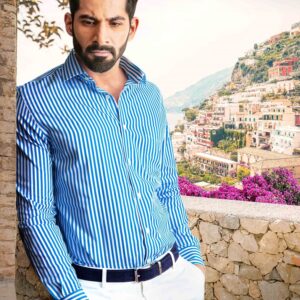 VIVACE is Italian for lively and described the essence and color of a nation steeped in style, fashion & art.n, woven into a single 60's fabric with a "Silk Touch", a result of the Zodiac trademark "Silk Protein Finish" in a range of colors inspired by the Amalf
In this collection, ZODIAC brings shirts crafted from luxurious Egyptian Giza 86 cottoi Coast on Italian Riviera. Fiery Orange, from Sicilian mandarins, Mediterranean Blue from the Italian sea, and Sparkling Red, from the pasta sauce in this region. Lively Greens from the olive groves in Tuscany & Sunny Yellow taken from the region's Limoncello drink.
Commenting on the launch Mr. Salman Noorani (Vice Chairman & M.D. ZCCL*) said, "Every Summer ZODIAC customers look forward to our VIVACE Collection. They feel it adds some Italian panache and flair to their summer wardrobe. Our USP is the "Silk Touch" 100% cotton which gives an extremely luxurious hand feel to the shirts.