Chairman of AICTE, Prof. T.G. Sitharam, launched 6 SWAYAM yoga online credit courses by S-VYASA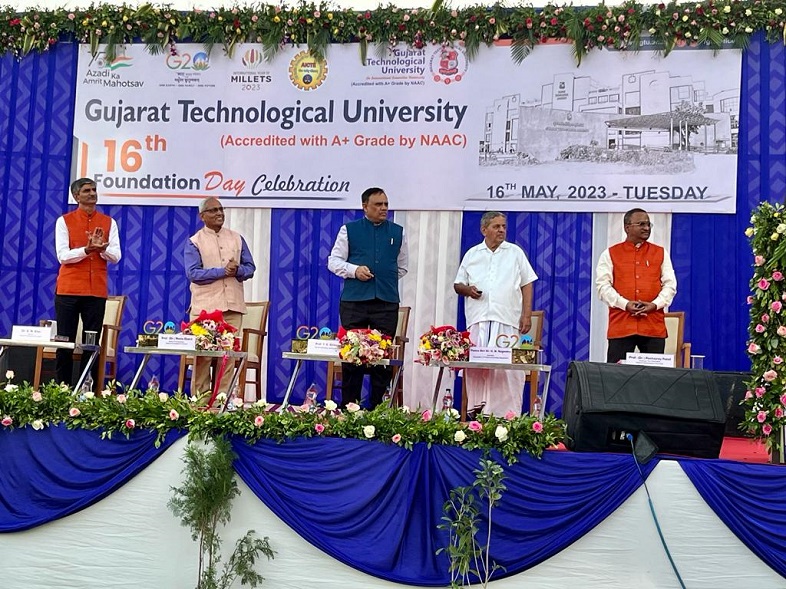 NEW DELHI:  May 2023, Professor T.G. Sitharam, Chairman of the All India Council for Technical Education (AICTE), officially launched six SWAYAM Yoga Online Credit Courses developed by S-VYASA, Bangalore. The launch took place during the 16th Foundation Day event of Gujarat Technological University at Ahmedabad.
The six courses launched by Prof. T.G. Sitharam are as follows: Yoga for IQ Development, Yoga for Ego Management, Yoga for Anger Management, Yoga for Eyesight Improvement, Yoga for Physical Stamina, and Yoga for Stress Management. These courses were developed by S-VYASA, Bangalore. The launch event was graced by the presence of Padma Shri Dr. H.R. Nagendra, President & Chancellor of the Swami Vivekananda Yoga Anusandhana Samsthana.
Dr. Mamta Rani Agarwal, Advisor (P&AP/SWAYAM), also attended the event.
During the launch, Prof. T.G. Sitharam said, "AICTE is dedicated to the holistic development of students, encompassing their physical, emotional, and spiritual well-being. He highlighted the significant role of yoga, ethics, and human values in fostering the growth of well-rounded individuals."
Additionally, Prof. Sitharam inaugurated UG & Diploma Books, which have been translated into Gujarati as part of the AICTE Technical Book Writing Scheme. These translated books aim to remove the language barrier in technical higher education and facilitate students in their learning. Furthermore, Chairman AICTE also launched the websites of GPERI/AIC/IKS UG, developed by students of Gujarat Technological University.