TATA IPL Fan Parks a nation-wide hit as massive crowds gather to catch action on JioCinema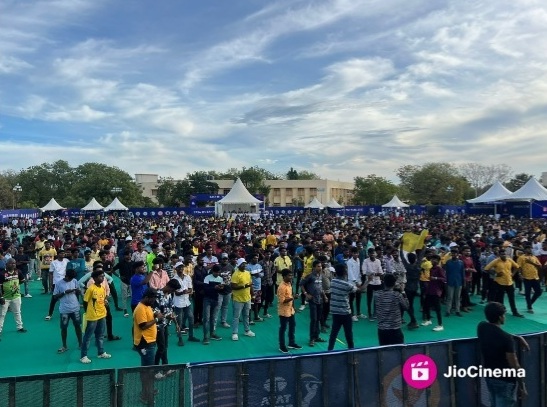 National | May 2, 2023: JioCinema, the digital rights holder of the TATA Indian Premier League, invited fans to a thrilling TATA IPL Fan Park experience across Vadodara, Kurnool, Bardhaman, Jalgaon, Varanasi, Karnal, and Thoothukudi as excitement around the league scaled a new high over the weekend. Thousands turned up in support of their favorite teams that were in action as the four-weekend games were live streaming via JioCinema across the seven TATA IPL Fan Parks.
Fan Parks are a part of JioCinema's comprehensive plans to take cricket to every internet user and every community with access to the internet by inviting fans to the streaming venues at more 35 cities and towns. Extending their digital-first offerings, JioCinema plans to make out-of-home sports viewing omnipresent across 13 states, for the first time on digital. Around 15 cities and towns have been covered in the first three weekends since Apr. 16.
It is the first time that a sporting event is being streamed digitally at such a large scale for community viewing, taking the tournament to masses in areas where access to paid linear TV channels is still limited.
Vadodara, Kurnool, and Bardhaman witnessed defending champions Gujarat Titans beating Kolkata Knight Riders by seven wickets in the first game of the doubleheader on Saturday, while Sunrisers Hyderabad beat Delhi Capitals by nine runs in the second match.
Fans in Jalgaon, Varanasi, Karnal, and Thoothukudi saw Punjab Kings defeating four-time champions Chennai Super Kings in a thriller by four wickets in the first game on Sunday afternoon, followed by Mumbai Indians beat Rajasthan Royals by six wickets in the 1000th TATA IPL game on Sunday evening. It also marked the highest successful total chased at Wankhede Stadium in the TATA IPL.
By inviting fans to TATA IPL Fan Parks, JioCinema is taking cricket to every internet user and every community with access to the internet. Access to the TATA IPL Fan Park is free of cost. The TATA IPL Fan Park had a wide variety of offerings for people of all ages, including a dedicated Family Zone, Kids Zone, Food & Beverages, and the JioCinema Experience Zone.
Prime public spots across the seven cities were transformed into entertainment hubs with TATA IPL Fan Parks set up for fans of the game. People were able to not just catch live action but also enjoy with their family and friends.
TATA IPL viewership on JioCinema is a testament to shifting consumer preference for digital when viewing live sports and it is now setting global benchmarks by bringing in the community viewing dimension.
Viewers can continue to watch their preferred sports by downloading JioCinema (iOS & Android). For the latest updates, news, scores, and videos, fans can follow Sports18 on Facebook, Instagram, Twitter, and YouTube and JioCinema on Facebook, Instagram, Twitter, and YouTube.