The Next Decade Will Belong to Indian Stories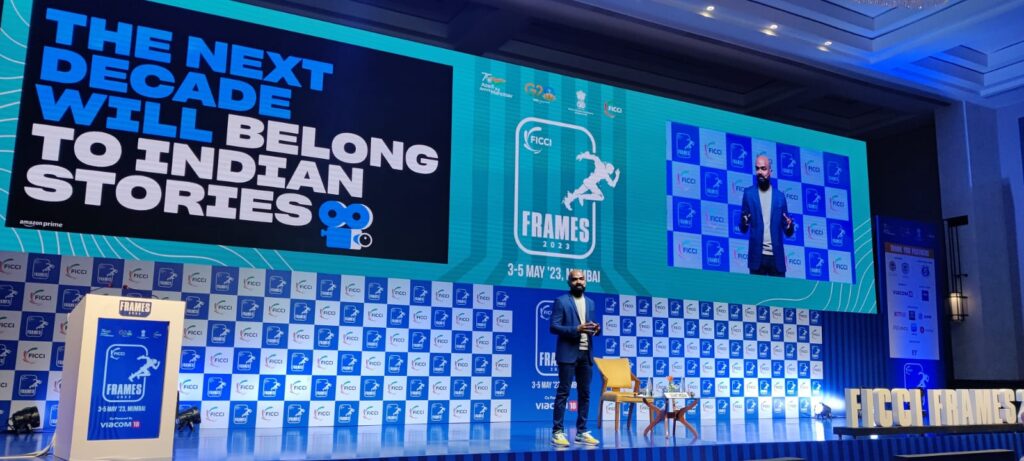 Mumbai, India — 5 May 2023 — Delivering a keynote address on 'OTT: Powering India's Storytelling and Creative Ecosystem' at the FICCI Frames 2023 convention, Sushant Sreeram, country director, Prime Video, India, said, "The coming decade belongs to Indian stories, with streaming enabling expansion of linguistic palette and content diversity." With this statement, he was referring to the fact that Indian content is being loved by critics and gaining fans worldwide, even as it continues to break new grounds within the country. He also emphasized the impact of streaming services on the Indian media and entertainment industry, noting their role in taking Indian stories to a global audience. By offering convenient and easy access to the finest Indian content, OTT players have made Indian entertainment accessible to viewers worldwide.
During the session, Sushant highlighted that 25% audience of Indian titles on Prime Video comes from outside India. Citing the recently released Amazon Original Series Farzi as an example, he stated that the show was released in 37 languages globally and streamed by viewers in 170 countries and territories over the launch weekend itself, in addition to entering the top 10 trending lists on Prime Video in multiple countries. He iterated that entertainment is now becoming borderless with streaming services like Prime Video expanding the linguistic palette of viewers. "Today, over 60% of the customers on Prime Video stream content in 4 or more languages while 50% viewership of local language content comes from outside the home states," he said.
Sushant also spoke about democratization of Indian entertainment. He said, "The entertainment industry in India has become a unifying force, bringing together different regions and cultures through the power of storytelling. It has also given storytellers the broadest reach to audiences within and outside the country. It has revolutionized the way content is created, accessed, and consumed, providing viewers with a diverse range of pan-Indian and global content. This democratization of storytelling has been gratifying to both witness and support."
He identified three areas that will give further impetus to the growth of the Indian creative economy, with streaming acting as a #forceforgood for India. First, public-private partnerships will play a more pivotal role. Groundbreaking collaborations such as the recently announced collaboration between Amazon India and Ministry of Information and Broadcasting (MIB) to provide holistic support to Indian creators and talent, by way of exposure, skills and capabilities trainings, masterclasses, internships, and scholarships, are all critical steps in this journey. Second, alliances and accessibility are great accelerants to the creative ecosystem – be it through preferred devices, subscriptions, payment instruments, interface languages and such, or via deep alliances and collaborations among studios, creators and streaming services. Prime Video through Prime Video Channels and Prime Video Mobile Edition, in addition to the widest device coverage, ensures that customers can easily access their favorite content at their fingertips. Third, the rise in disruptive collaborations between storytellers across geos and cultures will further push the creative boundaries. The international Amazon Original spy-action thriller Citadel is a perfect example of this. It's a global spy franchise with interconnected stories that traverse the world.
Summing up, Sushant said, "The next 10 years will be the decade for Indian stories, Indian storytellers. Borders and languages are no longer a constraint. Great stories will find their moment under the sun. We are at the cusp of a breakthrough. We have already seen early signs of it with our run at the Academy Awards earlier this year. That's just a precursor for us." He further added, "At Prime Video, we have had a journey that has placed us as one of the contributors to the acceleration we have seen. Today, I call upon everybody across the industry to take big bets, grow this category responsibly, provide a platform to stories that are all around us and of course think customer backwards. Always believe that it's still Day 1!"