Multifit announces two Fitness Events on 20th May 2023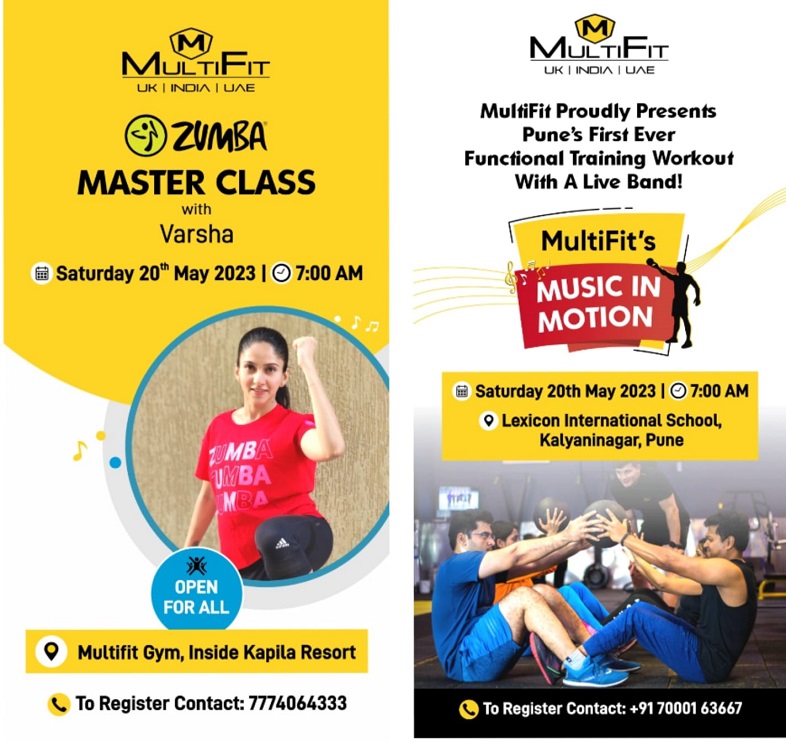 Pune-May, 2023- MultiFit, UK's elite, India's largest functional fitness and strong brand, is pleased to announce two upcoming fitness events scheduled for the 20th of May, 2023. These events are designed to provide individuals with an opportunity to engage in invigorating workouts and promote a healthy lifestyle.
MultiFit, founded in 2015 has established itself as a leading fitness centre chain. Committed to empowering individuals to achieve their fitness goals, MultiFit provides state-of-the-art facilities and a wide range of fitness programs. The upcoming events reflect MultiFit's dedication to promoting a healthier lifestyle and fostering a supportive fitness community.
The first event, the Zumba master class with Varsha, is set to be an energetic and dynamic experience. Led by Varsha, a certified ZIN (Zumba Instructor Network) instructor, participants will engage in a combination of dance and aerobic exercises. This event is scheduled for Saturday, 20th May 2023, at 7:00 AM. It will be held at the MultiFit gym located inside Kapila Resort, near Panchshil Towers Road, Kharadi, Maharashtra. This event is open to all interested individuals, and registration is required through the MultiFit gym.
The Zumba master class offers participants an opportunity to improve their cardiovascular fitness, coordination, and calorie-burning capacity in an enjoyable and vibrant environment. Varsha's expertise and experience will ensure that participants have an engaging and fulfilling workout session. Interested individuals are encouraged to reach out to the MultiFit gym to secure their spot in this event.
The second event, MultiFit's "Music in Motion," presents a unique fusion of functional training and live band. Participants will engage in a variety of exercises aimed at enhancing strength, flexibility, and coordination. Accompanied by live musicians, the performances will create an immersive atmosphere. This event will also take place on Saturday, 20th May 2023, at 7:00 AM, at Lexicon International School in Kalyaninagar, Pune, Maharashtra.
"Music in Motion" is an extraordinary fitness experience that aims to motivate and energize attendees. By combining functional training techniques with live music, participants can expect a dynamic and engaging workout session. Registrations for this event are now open, and interested individuals are encouraged to contact MultiFit to secure their participation.
The Zumba master class with Varsha and MultiFit's "Music in Motion" events provide an opportunity for individuals of all fitness levels to engage in fun and effective workouts. Participants can anticipate both physical and mental benefits as they strive towards their personal fitness objectives.