Radio City becomes the only radio network from India to win a Bronze Award and Four Finalist position at New York Festivals Radio Awards 2023
India, 25th April 2023: Radio City, India's leading FM Radio station, bags one Bronze Award and four Finalist Certificates at New York Festival Radio Awards 2023 which was held on the 18th April 2023 at the virtual Storytellers Gala. Radio City had six shortlisted entries, among the seventeen shortlists from India, at this prestigious award event. With a grand jury of over 200 professional directors, producers and other creative media individuals, the New York Festivals Radio Award 2023 recognized some of the best yet most creative minds and ideas within the audio entertainment industry.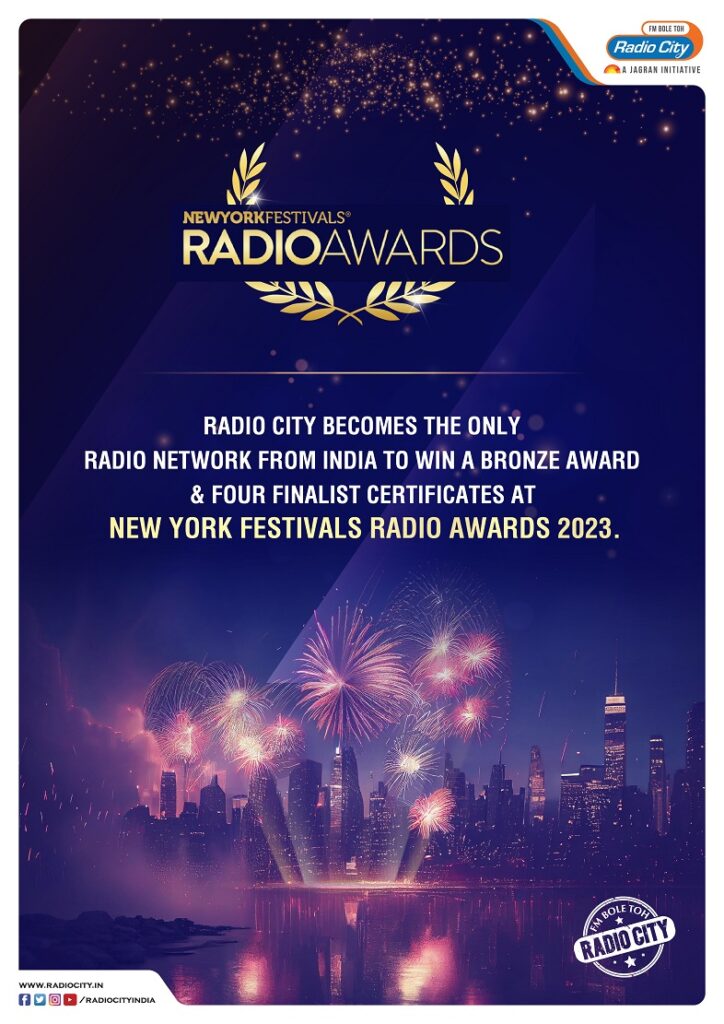 Radio City's 'Blade Running Victoriously Through Life' has won a Bronze Award in the category 'Heroes Feature'. Along with this, the organization has received four finalist certificates for Public Service Announcement Promotion for the campaign Peeche Wale Babu Helmet Laga Lo; Best Talk/Interview Special for Cine verve – 8 States, 8 Radio Hosts, 1 Movie, 1 Star; Best Two-way Telephone Talk/ Interview Show for RJ Ginnie; Public Service Announcement Promotion for Radio City Handwash Sound. Recognitions such as these showcase the innovation, commitment, and audience-centricity of the radio platform.
Expressing gratitude, Mr. Kartik Kalla, Chief Creative Officer, Radio City, said, "We are stoked to be felicitated at the prestigious New York Festivals Radio Awards 2023. Being recognized on this global platform is a testament to our hard work and dedication to providing the best and most innovative content to our audience. Radio City is committed to providing locally viable content in varied languages, genres and has been working incessantly to offer content that resonates with them and enriches their lives. This recognition is our motivation to continue pioneering within the audio broadcasting industry."
With a history of 65 years, New York Festivals Radio Awards aim to provide a platform for storytellers around the world within the broadcast audio production industry. Analyzing entries globally on the basis of creativity, production, idea execution, presentation, direction, performance, innovativeness, narration, reach, use of mediums and audience responses, the grand jury selected the winners of New York Festivals Radio Awards 2023.