Spark Curiosity and Imagination in Your Home with Thoughtfully Designed Products and Accessories from The Feel Good Studio
Mumbai, 16th May 2023: "Home is the first place where our hearts belong." This quote highlights one of the most dynamic, carefree phases of our lives that we all wish to return to. The wish for a beautiful home is every person's aspiration on this planet. After all, the starting point of our lives is our home—a place where we first learn to talk, walk, run, play, observe, socialize, and ask questions. Remember the time when you'd play among the butterflies in your backyard, thinking that they were fairies, or how you'd cook an imaginary meal using your kitchen playset? The Feel Good Studio is here now to make your dreams come true. Besides this, The Feel Good Studio seeks to aid discovery and curiosity among the people, thereby helping their dream home come to life.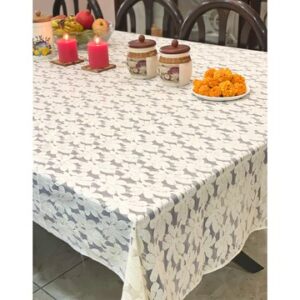 "Giving an example of table linen and curtains, while our team was considering fabrics for this new collection, we decided to use net fabric as its elegance in home decor is still highly underrated and underused. It is a beautiful textile and looks very opulent. People realized it when they saw the collection at our store, and it became a super hit overnight! And since the net is not printed, it takes time to get bored of it, creating good value for money. The inspiration behind starting The Feel Good Studio is our very own country and the unbelievable diversity that it offers in every industry and talent. A lot of Indian arts are continuously overshadowed by big foreign retail giants. We wanted to bring Indian handicrafts and handlooms back to the mainstream market because they are as good as, if not better than, the latest trends in home decor and furnishings. Whatever is already available to purchase is not suitable for everyone's pocket because of the overall scarcity and lack of accessibility of Indian goods. We wanted to bring unique yet affordable Indian products to people who have always wanted to live in pretty homes by using what our own country offers. says Sonal Saran, owner of The Feel Good Studio.
The Feel Good Studio aims to provide a slice of India to the world! with an easy, breezy, feel-good shopping experience. We want to be able to help people leave with lots of happy hormones at the end of a feel-good shopping experience. We believe that our customers should look at us as eclectic, affordable, approachable, and youthful.
Some specifications of the products from The Feel Good Studio are:
Table linen because it is made using the premium net and lace, giving off dreamy, luxurious vibes. It's a small collection yet the most sought-after, and it can be customized as per people's requirements.
Curtains: Our curtains are opulent and fairytale-like. Our customers have come back to us more and more consistently. Our little store gives them the freedom to tweak the size, fittings, and whatnot. A lot of people have even selected fabrics (from our vast Indie fabric collection) and requested to get curtains and other furnishings made out of them, and our team has more than happily done it for them.
Eyelet Schiffli Hakoba Fabric Collection: This collection is the best-selling one. Our fabrics in this particular category do exceptionally well and sell out the fastest. Each fabric is handpicked, and despite the intricate work on each one, we have kept it quite reasonable.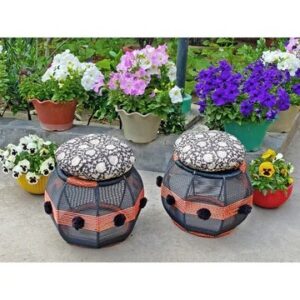 Handmade Rope Seating: Purely for the convenience that these ottomans and seats provide around the house People love them because they are vibrant, bohemian, perfect for house parties and family gatherings, and so Indie. They are lightweight and can be used anywhere around the house or terrace. Our customers have also loved creating festive vibes with the help of these seats.
The Feel Good Studio is an environmentally conscious, eclectic company. Our all-women-led, tiny team passionately works towards providing unique yet ethically sourced, affordable home decor and furnishings. A few of our home furnishings collections are fully customizable in terms of size, design, and style. Gradually, we are also aiming to provide limited custom clothing to our customers at no extra charge to make fashion freedom a more mainstream emotion because if freedom is not a feel-good emotion, then what is? All our packaging is plastic-free. We also provide a certain ease to our customers to pick and choose things and get them customized or tweaked in whichever way they want (if it is within our capacity). We are an online store, yet we try to give them an experience of fully personalized shopping by offering excellent personal customer support on email, Instagram, Facebook, and Phone.
At present, the age group is 25–60. Young professionals, renters, people looking to furnish their homes, new homeowners, homeowners, and artists. Everyone who wants to live in a pretty home. We have many reasonable gifting options, so we offer some unique products with a decent variety for people looking out for sweet handmade gifts, etc. We have also kept our word about keeping things affordable. Our copperware stands out along other collections, such as unique handmade seating, handloom bed covers, recycled sling pouches at the right prices, and of course a vast fabric collection.
It is clear that The Feel Good Studio recognizes how precious and fleeting our homes are and is dedicated to enhancing the lives of our loved ones with its range of thoughtfully designed products and decor. A comfortable house is a great source of happiness. It ranks immediately after health and a good conscience. Did not understand this statement- Check out their range, and it is sure to have you dreaming (quite literally) of your loved ones and your abode. Let's make home a better place than ever before by having some unique, eco-friendly products from The Feel Good Studio.