T-Hub signs MoU with CIMP BIIF to boost Bihar's entrepreneurial ecosystem.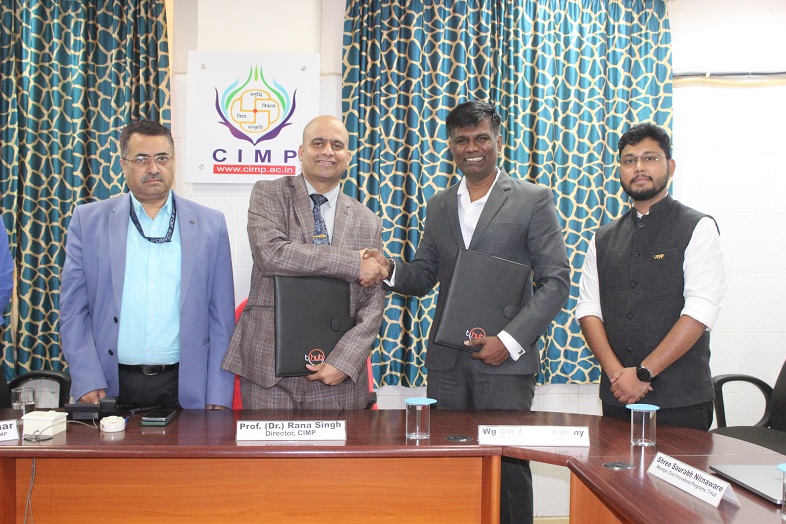 20th March 2023, India- T-Hub, India's leading innovation ecosystem today, signed an MoU with CIMP Business Incubation and Innovation Foundation (CIMP-BIIF), which manages B-hub in collaboration with the Department of Industries in Bihar. The MoU was signed with the aim of synergizing and collaborating to boost the entrepreneurial ecosystem in the state of Bihar.
The T-Hub team participated in a two-day visit to attend a business conclave hosted by the Chandragupt Institute of Management Patna (CIMP) in celebration of the occasion. The visit culminated in a series of events, including a student face-to-face interaction session, an entrepreneur session with incubated startups at B-hub, a management session with faculty and staff members at CIMP and CMP BIIF, and an official MoU signing ceremony. Wg Cdr Anish Anthony Retd (Chief Delivery Officer, T-hub) and Mr. Saurabh Nitnaware (Manager, Govt. Innovation programs, T-hub) were present during the MoU signing ceremony, alongside Prof. (Dr) Rana Singh, Director CIMP, Shri Kumod Kumar (Chief Administrative Officer, CIMP), Prof. (Dr) Rajeev Verma, and other faculty members and staffs of CIMP BIIF.
Speaking on the occasion, Wg Cdr Anish Anthony said, "We are excited to partner with CIMP BIIF in Bihar to boost the entrepreneurial ecosystem in the state. Through this strategic collaboration, we aim to share our expertise and knowledge to help build a vibrant startup ecosystem in Bihar, creating opportunities for the youth and fostering innovation and growth." He also congratulated both teams and shared insights into T-Hub's journey toward becoming the world's largest and India's best innovation & incubation ecosystem.
Prof. (Dr) Rana Singh during his address expressed his gratitude and appreciation towards the T-Hub team for extending immense support and collaboration. He said, "This MoU is a remarkable one for the state of Bihar as it would be a great opportunity for CIMP BIIF to learn from the masters of this field i.e., T-Hub. We would try our best to replicate the T-Hub model of incubation in Bihar and like always as leaders, we wish and envisage ourselves to be in the role of mother incubation center under the startup ecosystem in the state of Bihar."
During the Face2Face interactive session organized for the students, Wg Cdr. Anish Anthony talked about the role of T-hub as an incubator, emphasizing its 6Ms Mentors, Market, Motivation, Manpower, Money, Methodologies) and 2Ps (Partnerships & Policy advisory) framework. He also highlighted the importance of the fast-changing digital landscape in India and the upcoming wave of growth that will ride on innovation and sustainable entrepreneurship.
On the second day of the visit, the T-Hub team during the Entrepreneurial Session at B-Hub interacted with the incubated- startups who displayed their products and services. Also, the startups sought suggestions and solutions from highly experienced T-Hub members. The visit ended with a valedictory session where Shri Kumod Kumar, CEO of CIMP-BIIF also CAO of CIMP, delivered the Vote of thanks and expressed his gratitude towards the T Hub team for being MoU partners and now looking forward to the joint endeavors in near future.